MF51 Temperature-Measurement Chip In Glass NTC Thermistor Series
$0.135-0.455
Please leave us a message for accurate price
Brand:
Shiheng Electronics
Product origin:
Nanjing China
Delivery time:
Spot goods
Supply capacity:
Self-produced
MF51 Temperature-Measurement Chip In Glass NTC Thermistor Series
MF51 glass package temperature measurement type NTC thermistor
High temperature measurement accuracy, small size, fast response speed
Consistency and good interchangeability
Can be used in harsh environments such as high temperature and humidity
●Introduction

It can be used in such fields as air conditioner,heating apparatus, electronic thermometer, liquid level sensor, automoblie electricity,electronic table board etc.
●Applications
◎ Air-Conditioner. Heating Apparatus
◎ Electric Thermometer
◎ Liquid level sensor
◎ Automoblie electronic
◎ Electric table-board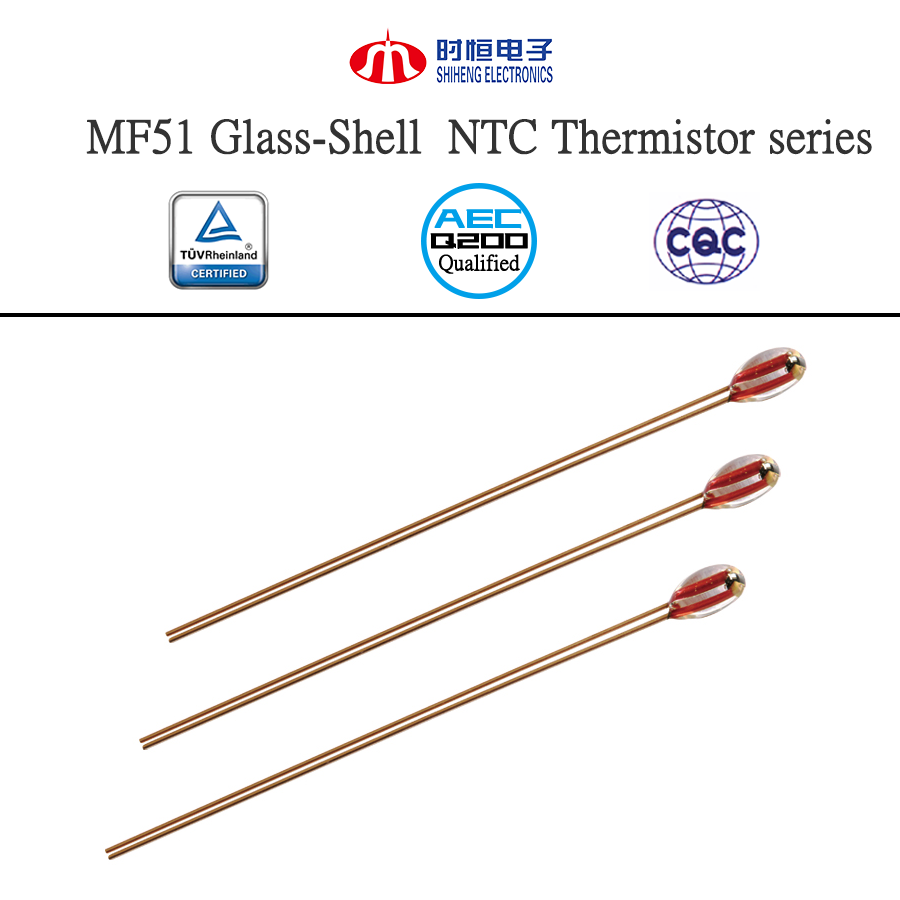 ● Characteristics
◎ Small size
◎ High testing precision
◎ Fast response
◎ Good quality of coherence and interchange
◎ It can be used in poor environments such as high temperature and humdity etc.
Normal dimension table

| | | | | |
| --- | --- | --- | --- | --- |
| Part No | D | H | L | d |
| NF51-A | 2.0±0.2 | 3.8±0.5 | 6.5±2.5 | 0.3±0.2 |
| NF51-B | 1.6±0.2 | 3.2±0.5 | 6.5±2.5 | 0.25±0.02 |
| NF51-C | 1.2±0.2 | 2.4±0.5 | 6.5±2.5 | 0.2±0.02 |
Main Techno-Parameter
| | | | |
| --- | --- | --- | --- |
| Part No | Dissi. Coef (mw/*C) | Thermal time Constant (S) | Max. Pwer dissipation at 25 °C Pmax(mW) |
| MF51-A | Approx. 1.4 | Approx. 14 | 50 |
| MF51-B | Approx. 0.9 | Approx. 7 | 35 |
| MF51-C | Approx. 0.75 | Approx. 5 | 15 |



Part No

Rated. Resistance R

B Value (25/85℃ )

R25(KΩ)

Tolerance

K

Tolerance

Regular P/N

MF51口口口 3435

2~10

±1%

±2%

±3%

±5%

3435

±1%

±2%

MF51 口口口 3450

2~10

3450

MF51 □□□3750

8~IO

3750

MF51 □□□3950

10~50

3950

MF51 □□□4150

50~100

4150

MF51 □□□4200

100~350

4200

MF51 □□□4350

870~980

4350

MF51 口口口445()

1000~1500

4450

Special P/N

MF51口2.186K口3420

R25=2.186 RO=6

±2%

±3%

±5%

3420 (BO/100=3390)

±1%

±2%

MF51口5.369K口3480

R25=5.369 RO=15

3480(B0400=3450)

MF51口49.12K口3992

R25=49.12 R100=3.3

3992 (BO/100=3970)

MF51口98 63K口4066

R25=98.63 R200=0.55

4066 (Bl 00/200=4300)

MF51 □ 231.4K口4240

R25=231.4 R200=1

4240 (Bl 00/200=4537)