CWF2 Nickle Copper
$0.8
Please leave us a message for accurate price
Brand:
Shiheng Electronics
Product origin:
Nanjing China
Delivery time:
Spot goods
Supply capacity:
Self-produced
● Introduction
That combining the high precision, Sensitive and security NTC thermistor with PVC wire,packing into the needed shape with the insulating, heat-conduction and water-protection material will be convenient for installation and long-distance temperature measure ment and control.


●Applications
Temperature measurement and control of household air-conditioner,refrigerater,iceboxwater heater,drinking machine,radiator,dishwasher,disinfector,washing machine, drying machine,middle-or-low-temperature drying box and constant temperature box.
●Characteristics
◎Adopting new technique,Steady product performance.Capability of long time operating.
◎High precision of resistance and B value,Good coherence, interchange capable.
◎High delicacy,Fast response.
◎Good quality ofinsulation and package,High capability of colliding and bending resistance and High reliability
Dimension: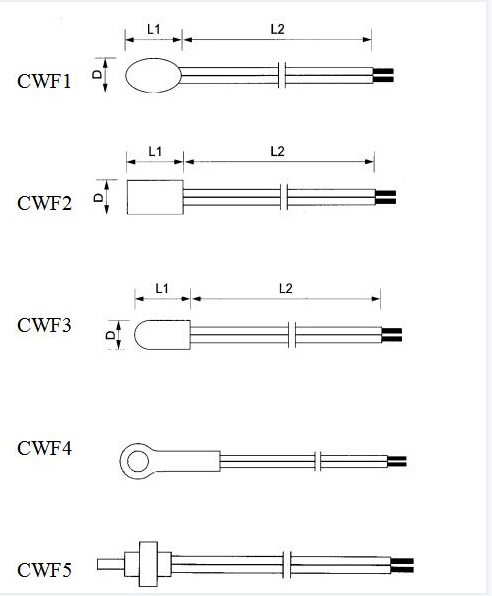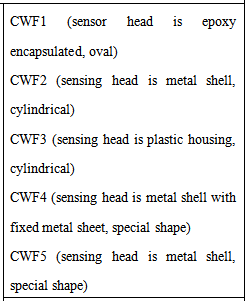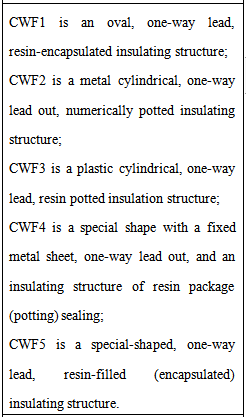 Part No

Rated Resistance R25

B Value (25/50℃)

Dissi.Coef(mw/℃)

Thermal timeConstant'S)

OperatingTemp.(℃)

Range (KΩ )

Tolerance (%)

(K)

Tolerance (%)

CWF □□□ 3270

0.1〜20

±1

±2

±3

±5

3270

±1

≥ 2.2

≤70

-20~+125

CWF □□□ 3380

0.2 〜20

3380

CWF □□□ 3470

0.5〜50

3470

CWF □□□ 3600

1〜00

3600

CWF □□□ 3950

15〜100

3950

cwF □□□ 4000

5〜100

4000

CWF □□□ 4050

5〜200

4050

CWF □□□ 4150

10〜250

4150

CWF □□□ 4300

20-1000

4300

CWF □□□ 4500

20-1000

4500