Nanjing Shiheng Electronics participated in the 8th Council Meeting of the 8th China Electronic Components Industry Association
From September 27th to 28th, 2021, the 8th Council Meeting of the 8th China Electronic Component Industry Association was held in Qingdao, Shandong. Shiheng Electronics, the governing unit of the Electronic Component Industry Association, also participated in this meeting.
The meeting put forward the idea of how to promote the modern development of China's electronic information industry chain and discussed; announced the list of the top 100 companies in the "2021 (34th) China Electronic Component Enterprise Economic Index Comprehensive Ranking"; The trend of technology and market development has been analyzed; the high-end dialogue of the "14th Five-Year Plan" is expected. The "Fourteenth Five-Year Plan for China's Electronic Components Industry" was also officially released at the meeting.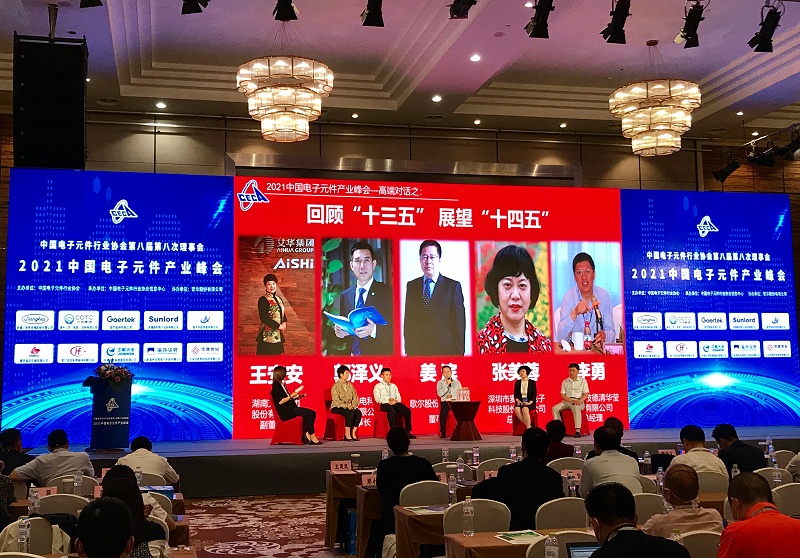 The "Fourteenth Five-Year Plan" is a five-year period in which my country has accelerated the construction of a new development pattern with domestic and international double cycles as the main body and mutual promotion of domestic and international cycles, and opened the second century of grand chapters. During these five years, we will strengthen the foundation and make up for the shortcomings. , Forged long plates will become the main tone of the development of the entire industrial field. As one of my country's current strategic, basic and leading industries, the high-quality development of the electronic components industry can be described as the top priority. In order to comprehensively and scientifically summarize the development experience and lessons of the "Thirteenth Five-Year Plan", reasonably plan the development direction of my country's electronic component industry during the "14th Five-Year Plan" period, and ensure the healthy development of the electronic component industry, the China Electronic Components Industry Association is deepening On the basis of investigation and extensive demonstration, experts were organized to formulate this plan.
In the "Fourteenth Five-Year Development Plan for China's Electronic Components Industry", the "Ultra High Power NTC Thermistor" undertaken by Shiheng Company was listed as a key development product in the "14th Five-Year Plan" of China's electronic components industry.
As the drafting unit of the "13th Five-Year" and "14th Five-Year", Nanjing Shiheng Electronics has been deeply involved in the NTC thermistor and temperature sensor industry for nearly 20 years. The product quality is escorted by 5 major systems and new products that meet the various needs of customers Backed by an excellent R&D team, the main products have passed the CQC, UL, C-UL, TUⅤ certification, and have passed the AEC-Q200 automotive-grade performance test. The MF58 thermistor has also passed the extremely severe UL standard of 100,000 Sub-durability life test, all products passed the environmental protection RoHS test. With excellent product quality and excellent service, it is deeply sought after and loved by users.